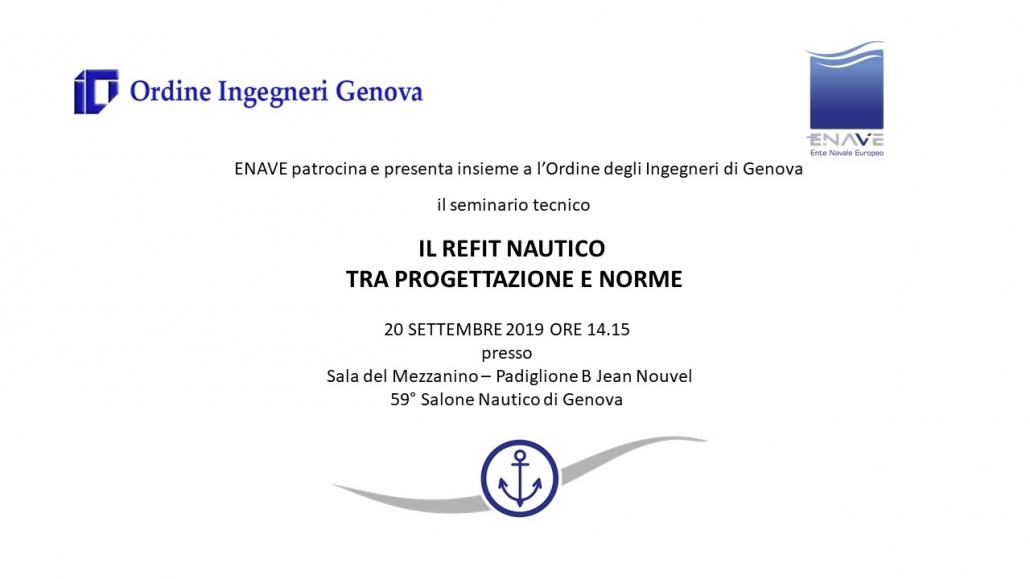 L' Ordine degli Ingegneri di Genova insieme ad ENAVE – Ente Navale Europeo S.r.l propone, un seminario tecnico per illustrare gli aspetti tecnici, progettuali, normativi e pratici "di cantiere" che si celano dietro al refit o alla riparazione di una unità da diporto.
Questo seminario vuole fornire degli strumenti ai professionisti che affiancano gli armatori in queste operazioni e che devono poter coniugare i desideri della proprietà con le esigenze tecniche e normative. Alcune recenti novità nel quadro normativo nazionale e i continui aggiornamenti di quello comunitario impongono alcune riflessioni in merito.
Un refit o una riparazione, alla luce delle nuove norme, può assumere amministrativamente forme diverse dipendenti sia dall'estensione dei lavori che dal modello di unità che dall'età dell'unità stessa. In questa occasione può essere inoltre utile rivedere o aggiornare le sistemazioni impiantistiche della imbarcazione da diporto e per elevare gli standard di sicurezza in mare.
Durante il seminario verranno affrontati i temi che costituiscono l'apparato normativo attuale e saranno illustrate le procedure che i tecnici rispettano durante i controlli a bordo anche tramite la presentazione di case history da parte degli operatori del settore.
Programma
14.15 – 14.30
Registrazione dei partecipanti
14.30 – 14.40
Introduzione ai lavori e saluti iniziali
Ing. Maurizio Michelini  – Presidente Ordine Ingegneri Genova – Moderatore
Ing. Giuseppe Macolino – Amministratore di ENAVE
14.40 – 15.15
Un caso di Refit – Lupa of the Sea
Ing. Damiano Lancia – Ingegnere Nautico – Customer care & Refit Manager Vismara Marine  
15.15 – 15.50
Il Refit secondo l'Amministrazioni di Bandiera
Ing. Giovanni Ceccarelli –  Ingegnere  – Ceccarelli Yacht Design
15.50 – 16.25
La visita Occasionale per Convalida della Annotazioni di Sicurezza: aspetti salienti
Ing. Giulia Cresci  –  Ingegnere Nautico- Tecnico Operativo ENAVE –Motoryacht expert
16.25 – 16.45 Pausa
 16.45 – 17.25
Un case study: la riparazione di un Motoryacht a seguito di incaglio grave
Ing. Stefano Signori  – Studio Mare Nostrum
17.25 – 18.00
La Marcatura CE Post Costruzione: gli aspetti durante un Refit
Ing. Alessandro Suardi. –  Ingegnere Navale- Coord. Tecnico Tecnici Operativi e Sviluppo ENAVE
18.00 – 18.15 Conclusioni e dibattito
CREDITI FORMATIVI
Il riconoscimento di 3 CFP al presente seminario è stato autorizzato dall'Ordine degli Ingegneri della Provincia di Genova, che ne ha valutato anticipatamente i contenuti formativi professionali e le modalità di attuazione.
ISCRIZIONE AL SEMINARIO e QUOTA D'ISCRIZIONE
Il seminario è gratuito e aperto a tutti gli Ingegneri e agli Architetti iscritti ai rispettivi ordini professionali. L'iscrizione dovrà avvenire esclusivamente online attraverso la piattaforma dedicata dell'Ordine degli Ingegneri di Genova: CLICCANDO QUI. Il numero massimo di partecipanti è di 80. Per accedere all'interno del Salone Nautico di Genova sarà sufficiente presentarsi al desk con la mail di conferma della partecipazione al seminario.
ASSENZE
Al fine del rilascio dei crediti non sono consentite assenze neppure parziali, e non sono previsti rimborsi in caso di mancato rilascio dei crediti.
scarica la locandina dell'evento
https://www.enave.it/wp-content/uploads/2019/08/Presentazione-standard1-1.jpg
720
1280
enave
https://www.enave.it/wp-content/uploads/2016/10/LOGO-ENAVE-DEFINITIVO-verticale_RGB.png
enave
2019-08-08 12:21:04
2019-09-25 10:03:44
SEMINARIO TECNICO 3 CFP: Il refit nautico – tra progettazione e norme